Everyone's adventure is different, and we love that!
For some, it's a walk around the block or a trip to the park; for others, it may be climbing a mountain or going on a week-long trip to the beach. Whatever your adventure style is, we hope we can help your family enjoy your adventure!
The Best Baby Play Mat for Travel and the Outdoors
Our Signature Product! The Lay and Play Adventure Mat is perfect for travel and adventures near and far.

Lightweight, Compact, Easy to Clean
Shop Now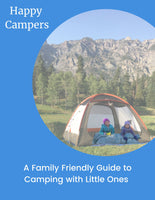 Happy Campers - A Family Friendly Guide to Camping with Kiddos
Our newest product! An simple and easy solution to planning that camping trip your kiddos have been begging you to go on.
Learn More
What Everyone is saying
The BEST travel mat for baby!

I bought this mat when my baby was 7 months old and I regret not buying it sooner! It's light, easy to pack and throw in your bag, and perfect for outdoor terrain.

Jessica
Highly Recommend for ALL families with babies

Even if you're not the outdoor type, this packs up compactly for easy storage for the moments when you want to reclaim your adult space.

Elizabeth
So Easy to clean after our recent road trip!

Loving our mat! We used it on our road trip today and our baby quality tested it by throwing up on it and no stains!

So easy to clean!!

Vanessa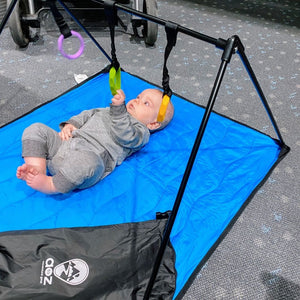 Perfect for families who travel
Compact and lightweight so you have an easy and clean place to PUT your baby wherever you go
Shop Now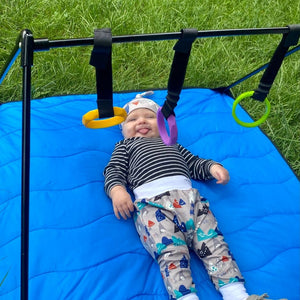 Designed for the outdoors, saves space indoors
Perfectly padded and water-resistant, our mat is great for damp or muddy ground and wet or hard surfaces
Learn More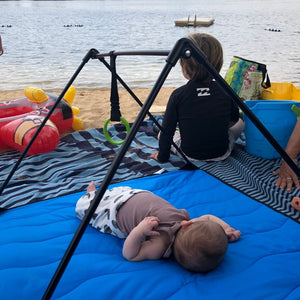 Quick and easy set-up
When you are juggling more than one kid, you can keep your baby entertained and happy while older siblings play
Give a Gift
From your backyard to the airport, to car trips and camping, the Lay and Play Adventure Mat is ready for your baby to play anywhere you want to go.
The ONLY activity gym and tummy time mat that quickly folds up and fits into a small stuff sack that can fit in your carry-on luggage, diaper bag, backpack or large purse.
Simple Design
Minimalist design is perfect for small spaces
Easy to pack
Great for a variety of places from adventures to apartment living!
Few parts: Lay and Play Adventure Mat only has two main parts, so you don't have to worry about finding all of the pieces when you pack it up! 
Shop Now
Lay and Play Adventure Mat Features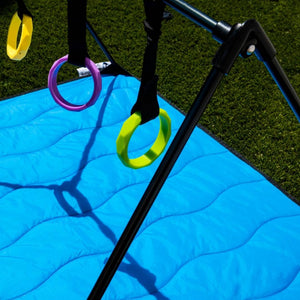 Safety
We've passed rigorous testing by a Consumer Product Safety Bureau approved lab.
All components meet the most recent ASTM safety standards for baby products.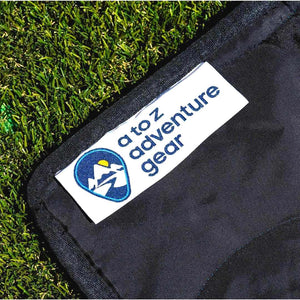 Materials
We use rugged materials that are designed for the outdoors.
Lay and Play Adventure Mat is lightweight, easy to fold down and pack in the included stuff sack.
The mat is water resistant and nicely padded. You can feel confident about putting it down on wet grass or damp ground.
Our straps use baby friendly hook and loop fasteners to keep baby's tiny fingers safe.
Colorful ring toys are made of food grade silicone that are BPA free so no need to worry if your baby puts them in their mouth.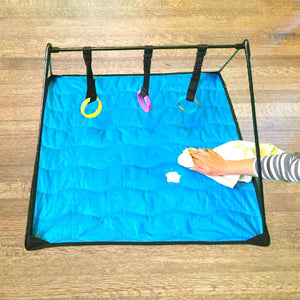 Cleaning
Easy and simple – for small messes, just wipe with a damp cloth and dish soap.
For bigger messes or for an all over cleaning, toss the mat in the wash on cool setting and tumble dry low.
Poles and straps can be easily wiped down with a damp cloth or disinfectant wipe.
Rings can be washed with soap and water or put in the dishwasher.